Support Desk (version 4.0)
Welcome to Radiant WebTools's Online Help Desk for Version 4.0 of the platform. If you're looking for help with Version 3.0, please login to your 3.0 account and click on Support.
Please feel free to search our Knowledge Base (below) for answers to the most frequently asked questions. If you can't find what you're looking for, please Submit a Ticket in our Support Desk.
---
More Back to Knowledge Base
Understanding the Teaser Widget
The Teaser Widget allows you to show the "compact view" of your module on any page in your website.
A Teaser Widget can be used for the following Modules:
Blogs
Photo Gallery
Audio/Video
Events
News
Resources
Mailing List
Payment/ Donations
In order to create a teaser, you first need to place a module on a page somewhere within your website and save it. (i.e. Blogs, Photo Gallery, etc.)
Once the module is on a page, you can then drag a Teaser Widget from your tool bar and drag it to the left onto your site.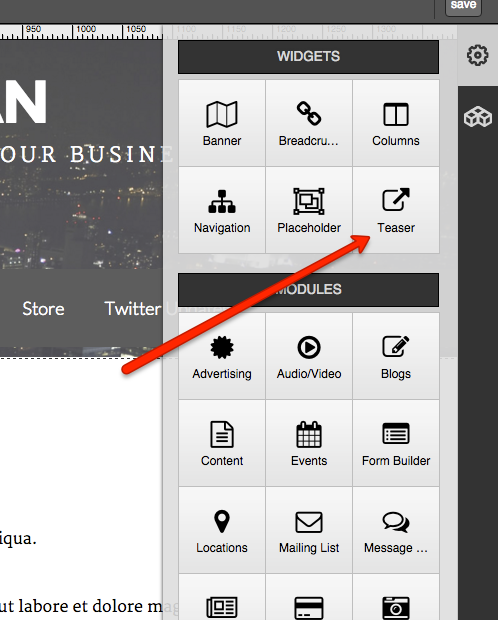 When you place the Teaser, it will prompt you to display information from a module on another page. (see screen capture below).
You can also add a Title, change the display title and select how many items you would like displayed.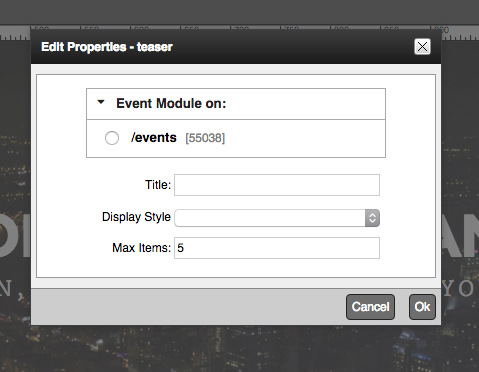 Once you have filled out the desired fields click OK.
You must add a module (Photos, Blogs, Events, etc.) to your website before the Teaser Widget will allow you to pull data from it.
*For current 4.0 users, Teasers have replaced what we used to call the "Compact View".
If you have further questions or need assistance, please contact our Customer Service Team.